Ah, SAO. Every time I think I'm out, you drag me back in. I wish I could quit you.
Okay, so, in all those SAO posts I've made over the last few months, I would frequently visit other blogs and Youtube reviews to get a sense of just what it was about SAO that made it so hated. At many of these places, I kept reading and hearing the reviewer mention how much better another anime, Log Horizon, tackled the idea of being trapped in an MMO. Without fail, each cited it as a prime example of just why SAO was the worst.
Once I finished covering the various story arcs of SAO, I figured I'd give Log Horizon a go in order to challenge my perspective of SAO as being not as bad as it's billed. I went in ready to see something amazing. Something like I'd never seen before. Something that changed my opinion of SAO.
What I got was one of the worst anime viewing experiences of my life, and raised a lot of questions in my mind as to how seriously I should take the anime critic community. I never fell asleep watching SAO. I did frequently watching Log Horizon.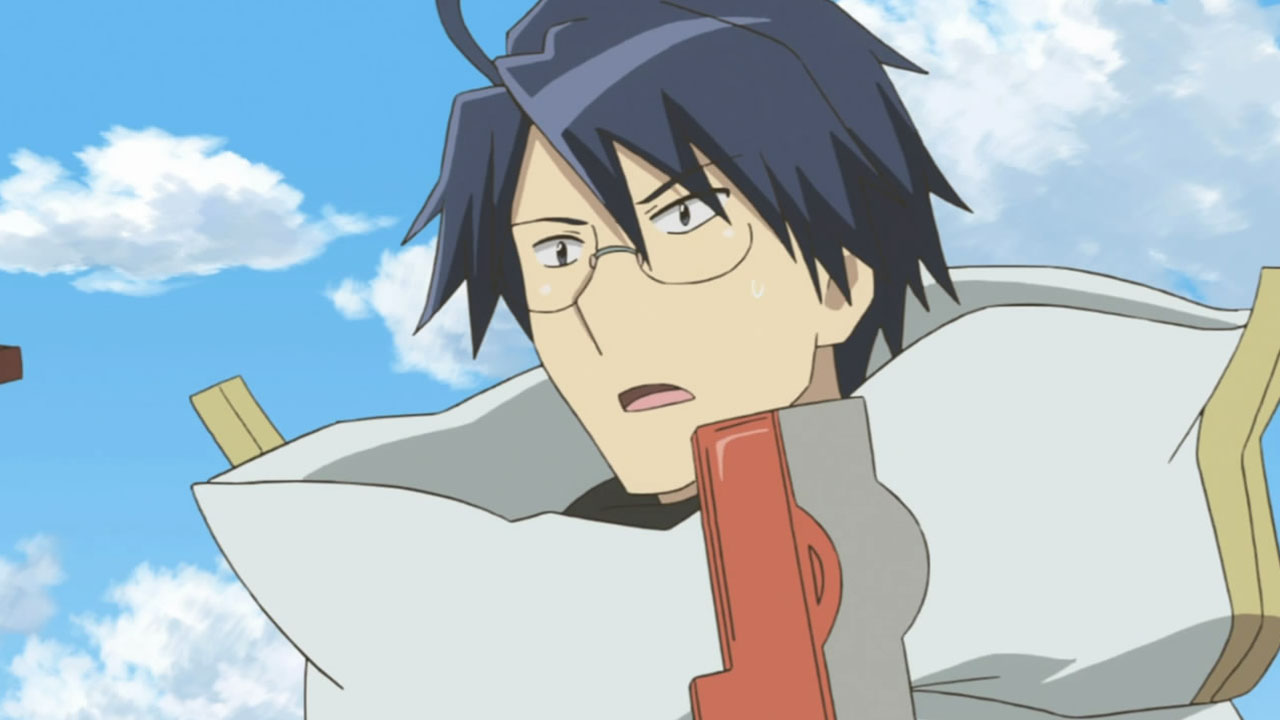 Seriously, I had to rewatch five of the fifty episodes again because I fell asleep while they were on. Anything that puts a viewer to sleep a tenth of the time is not good.
The reason for this is simple. Log Horizon was boring. Like, really, really boring. I didn't even know anime could be that boring. That Phoenix Wright anime was more thrilling. Hell, that show about people making a dictionary, the one where they talk all the time, was more engaging.
That's my viewpoint, however, and not an absolute. Here's what is. Log Horizon is guilty of doing everything SAO haters claim SAO is terrible for. No, it is. There's no escaping that fact.
Harem cheese? Check. Toothless stakes? Check. Overpowered, bland protagonist? Check. Weak supporting cast? Check. Pointless plot? Check. Call backs to previous events we never actually saw happen? Check. Fan service? Double check.
Seriously. Log Horizon actively does everything SAO is accused of, more blatantly. Yet, it's hailed, while SAO is panned. Why?
I'll get to that. For now, let's take a look at both shows, up close, and see just how they really stack up. Fair warning, this is likely to be a rather lengthy post, as there's a lot of things critics slam SAO for I want to get into, and how Log Horizon really does do them even worse.
Also, please refrain from jumping in to correct me on something until you finish the whole post. Trust me, it'll be better that way for both of us.
Let's start with…
The Protagonists
In Sword Art Online, the protagonist is Kirito, an unstoppable swordsman who never fails at anything, beats every monster he faces single handedly, yet is despised by everyone for no valid reason. Except the women. Every woman wants him. He's overpowered to the point he gets a skill nobody else can get, yet is bland and has no personality, with a dull character design we've seen a thousand times.
In Log Horizon, the protagonist is Shiroe, an unstoppable mage who never fails at anything, beats every opponent he faces single handedly, yet is despised by everyone for no valid reason. Except the women. Every woman wants him. He's overpowered to the point he gets a skill nobody else can get, yet is bland and has no personality, with a dull character design we've seen a thousand times.
Now, I know those seem like some pretty wildly different characters, with one being a swordsman and the other a mage. If you look closely, however, you'll see some similarities between them.
You gotta look super close, though, cause they ain't real obvious.
Of course, I'm poking a bit of fun. They are basically the exact the same character, no matter how you look at it. The only actual difference is the swordsman verses the mage. You could make a case that Shiroe doesn't beat his opponents single handly, but that's splitting hairs. Without him, nobody would ever win a single fight they are in, so it is his singular presence that allows any victory at any point in time.
Let me be a bit more specific, however. First, with Kirito.
He's not unstoppable. He almost dies several times. That's the opposite of unstoppable. That's very stoppable. He only ever survives because he never takes on any fight single handed, save one, during the Christmas Event. Every other battle he's in, he has a lot of backup. Even in the Gleam Eyes fight, Asuna, Klein, and the Army guys were there and did their own share of fighting. Kirito just finished the battle. That's not single handed.
Of course, I'm just referring the Aincrad arc. In Fairy Dance, he only wins one fight without help. In Gun Gale, he does win several on his own, but they were one on one battles with other players, so that's not really the same. It is, yeah, but it isn't. It's a murky area, at best.
As for why he is despised, that's because he was a beta tester. In any world, there will be those who are hated for the most superficial of reasons. In Aincrad, that was the beta testers. Kirito gave the new players a face to put to beta testers, and took all their anger and resentment on himself so the others could continue helping the new players in anonymity. He basically allowed himself to be hated for a purpose. After Aincrad, him being disliked never came up again.
There was also no actual harem in SAO. Kirito committed to Asuna very early on, and has stayed true to that. He's never wavered form it, and there was no competition between his female friends for who he would end up with. That's how a harem works in anime, by the by. Various characters compete for the love of a character who remains undecided. Kirito decided by the middle point of the first arc. There was no competition. Just some friends, who liked him, but accepted his decision, and that was that. That's not a harem.
As for the duel wielding skill, Kirito never wanted it. Akihiko Kayaba, the creator of SAO, forced that, and the role of hero, on Kirito. He never sought it, and never wanted it. He just didn't want to die. That was Kirito's only goal until he got involved with Asuna. That was when clearing the game became a priority to him. Before that, he just wanted to stay alive. Akihiko was the one who decided he'd be the hero, for whatever reasons he had. Kirito just did the best he could with it.
His character design is kinda ordinary, but that was on purpose, so I ignore that argument. On the other hand, he's not so much bland, as he is just quiet. Kirito's not a flashy person. He doesn't try to draw attention to himself. Calling him bland is like saying he isn't enough like a shonen hero, who is all flashy. Except we hate when shonen heroes are flashy. So, ya know, make up your mind.
Besides, Kirito being a bit reserved is kind of a big part of his character. It goes to his backstory. That whole thing where he found out his parents died and he was raised by relatives? Yeah, that. It messed up his view of himself. He was about ten or so when he learned, and went into SAO only four years later, at 14. That's a rough time for most people, but his background made things worse. He's quiet, reserved, and shy for a reason. Not just because.
Shiroe, now, is a whole different ballgame.
All through Log Horizon, Shiroe never once loses, except to his battle in the Abyssal Shaft. That's it. Not just his only loss, but the only time he ever comes close to losing. Even then, it wasn't so much a loss as a set back. At every turn, he's already outsmarted every opponent he faces before the fight really begins. The supporting cast devotes giant chunks of episodes to talking about how amazing and smart he is, and how they'd all be lost without him.
No, really. Sometimes they stop in the middle of an actual fight to have either an internal monologue, or a conversation with another character, or both, about how great Shiroe is. It happens at least every other episode, and when it doesn't, it's made up for by having a couple episodes in row dedicate time to praising Shiroe.
As for why he's despised, I have no actual idea. He gets called the Villain in Glasses a lot, but we are never given a single reason for why he's called that, or why anyone doesn't trust him. They just don't. At best, it's pawned off as being because he "looks shady", or because he won't stand up in front of everyone. Except he does stand up in front of people, all the time. He's always around the trusted people, yet for some reason, he isn't trusted. That's never explained beyond being something for him and others to angst about.
No, it isn't.
All that needs to be done is for everyone to just admit that Shiroe organized the Round Table, and is instrumental in the success of Akihabara. No one ever does that. Not Crusty, or Mirielle, or anyone. They just let him be treated like crap, because he says it's okay for everyone to treat him like crap, even though nobody has any reason to treat him like crap, and he never does anything deserving of it. It's just a thing that happens for no reason, outside creating needless drama.
Unlike in SAO, Log Horizon has a full on harem. Several girls are actively competing for Shioe's affection. Like, full on competing. There's Henrietta, the treasurer for Crescent Moon Alliance. There's Akatsuki, his loyal ninja bodyguard. There's the central antagonist, Nureha. Then, there's Minori. Sweet, annoying, little Minori. Who is about 12.
Shiroe is in his early 20's. Yeah. And people bitch about Leafa.
To be clear, Minori isn't like Akatsuki, a twenty year old who just looks ten. She's actually about 12, maybe 13. She's still in middle school, so at most, 14. And she is actively pursuing Shiroe, and competing against the others to be his girlfriend.
That's a harem. A full blown harem. It's got everything a harem's got. Including the underage girl you know he won't pick, and the one he obviously will in Akatsuki. It's a total harem.
Shiroe also possess not one, but two skills nobody else has. World Class Magic, that he just up and does without any training at all, and his Full Control Encounter, which is apparently so totally amazing that it blows the minds of everyone around him. Basically, he's just really good at orchestrating a raid, but it gets treated like the most amazing thing anyone has ever seen.
How anyone in this game beat a raid without Shiroe is never explained, since his Full Control Encounter is the only reason anyone ever wins a raid, which we only see happen twice anyway, so I'm not even sure what the hell this skill is such a big deal for in the first place.
Oh. Right. Cause Shiroe is the best. End of story. Nobody is better than him.
As for his character design, it's pretty ordinary as well. His character, on the other hand, is just dull. He endlessly acts modest, while everyone around him praises him for everything he does. And I do mean every fucking thing. He starts a guild, and people get teary eyed over it. Like, for real, start crying because he started a guild. He gets a party for going to another town and coming back with an obnoxious brat who cries constantly.
But nobody trusts him, except when they all love him. Ugh.
As for why he's distant, that's not really explained until well into season two. The first season just writes it off as he always felt alone, even in a crowd, and people always ask him for help. Basically, he's emo. Season two tries to recast that, but it tries to recast a lot of things, and it only ends up making things more confusing. In a nutshell, his parents were working their asses off to give him a good life, so he was lonely a lot as a kid. While that isn't an unbelievable background, or even a bad one, it is in conflict with his previously stated backstory, which undermines both versions.
In other words, his background, and why he's so emo, change according to what the plot needs. It's one way in season one, and another in season two.
A few last things about the protagonists.
Kirito never joins a guild after what happened with the Midnight Black Cats because he doesn't want to be responsible for the lives of others. Shiroe never joined a guild because he doesn't like the politics. Both of these are legit reasons, and I grant that. One is not better, or worse, than the other.
Kirito is aware that the girls who like him, like him. He never does anything to encourage it, but does still treat them as friends, because what else can he do in a such a small, closed community as Aincrad? Shiroe seems utterly oblivious to all the girls chasing after him, except Nureha, and that's only because she flat out tried to seduce him. He's the typical oblivious male lead of a harem, and constantly hurts the girls around him with his obliviousness. Because Log Horizon is a harem anime.
Kirito eventually accepts his role as Akihiko Kayaba's hero in Aincrad, and fights to free everyone, out of a sense of obligation for all they have done for him, their friendship, and their support of his years as a solo player. Shiroe never accepts his position as hero. Ever. He remains in the background, content to be hated for no reason, but the mastermind behind everything. In other words, Kirito grows as a character, Shiroe doesn't. Kirito accepts his mistakes and tries to change himself. Shiroe never makes any mistakes, not really, and never has to improve himself at all. He starts the series at level 90 for crying out loud, while Kirito started at level 1.
Now, I will say that Shiroe does admit he could be more open with people, but considering this is a lesson he has to learn repeatedly, it doesn't really count as character growth, so much as it does going in a circle. Every major battle, his inability to communicate causes problems, until he realizes, all on his own, with no help from anyone, that he just needs to boss people around better. Then everything goes perfectly, because Shiroe is actually perfect, and just can't admit it to himself.
That is not an exaggeration. That is how the show is set up.
For fucks sake, at least Kirito fails sometimes. More than I can say for Shiroe.
So, yes, Shiroe is actually everything that SAO haters hate about Kirito.
The Plot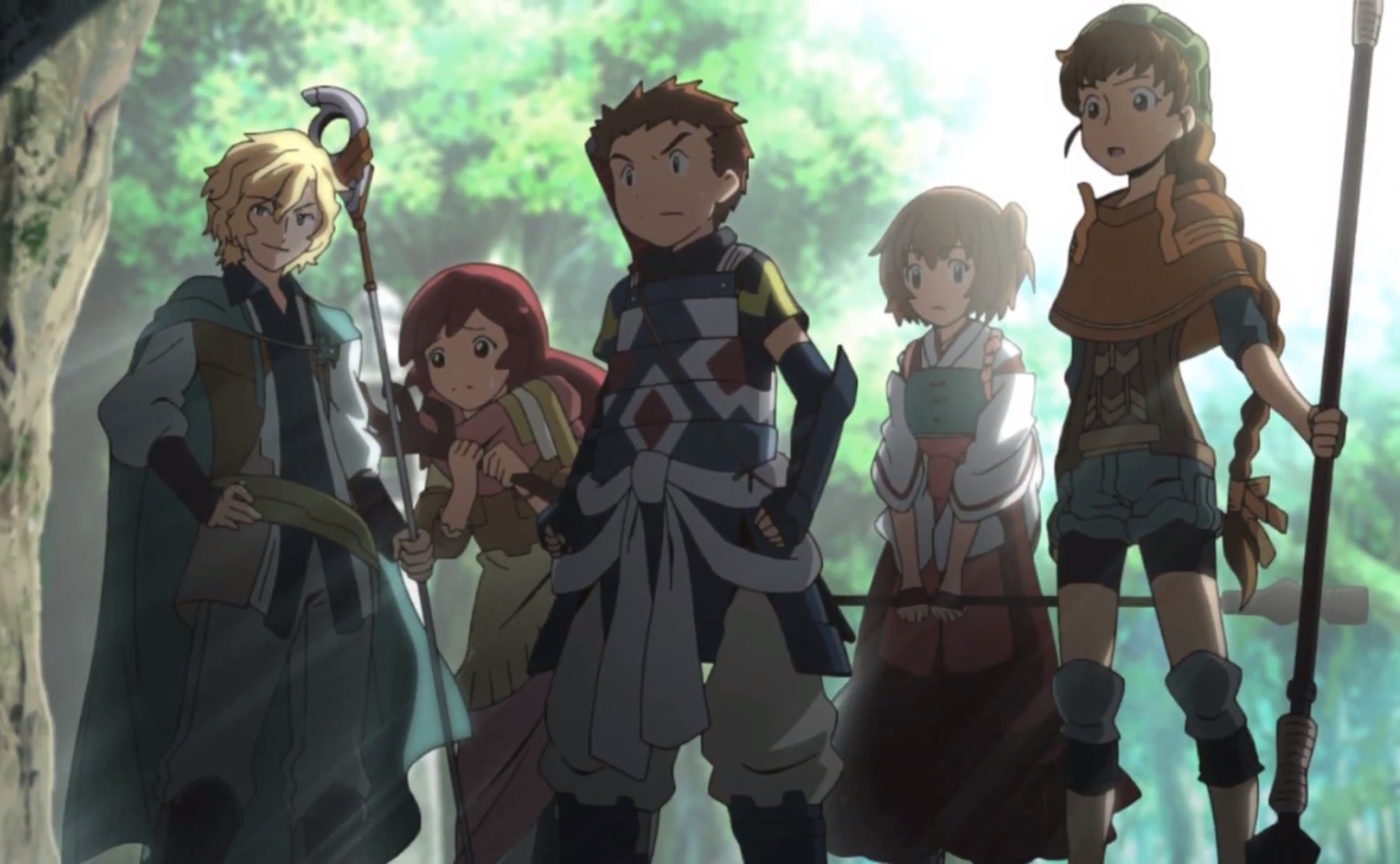 I'm going to focus on Aincrad here, as it is the arc that most frequently gets compared to Log Horizon. Just so we're all clear on that. Everything after Aincrad sucks because it's SAO. Aincrad sucks because it isn't Log Horizon. That's the quick version of why SAO sucks.
Actually, it's the only reason SAO sucks. I'll get into that more, later, however.
In SAO, 10,000 players in the first full dive VRMMO become trapped and have to beat all 100 levels of the floating castle of Aincrad. Dying in the game kills you in the real world. Which means they just have to win and everything is fine, cause SAO is weak sauce when it comes to plot.
In Log Horizon, a respectable 30,000 players on the Japan server of MMO Elder Tale suddenly find themselves in the world of the game. The NPC's are all now real people. In order to survive they have to start a burger stand and overcome everyone having the sads, because it is brilliantly plotted.
What? That's what happens.
Okay, okay. Log Horizon is actually broken down into lots of mini arcs, so it doesn't actually have a main plot. Or a plot at all.
Yeah, lemme get into this better.
SAO is a death game that is forced on the players. One of the big criticisms of SAO is that nobody would actually be upset to be taken to their favorite MMO. Except, SAO isn't anyone's favorite. It's a brand new game nobody has ever played. Also, I'm pretty sure nobody really wants to fucking die to be in their favorite MMO. That death part is kinda important. It's why everybody wants the hell out. Playing an MMO is fun. Dying is not.
Not to mention, getting out may prove impossible. There's no guarantee enough players will survive to make escape possible. Should that happen, they can do nothing but wait for their real world bodies to die, killing them anyway. There is nothing simple about this. It's fight and possibly die, or wait and die, all without ever seeing your friends, family, and loved ones again.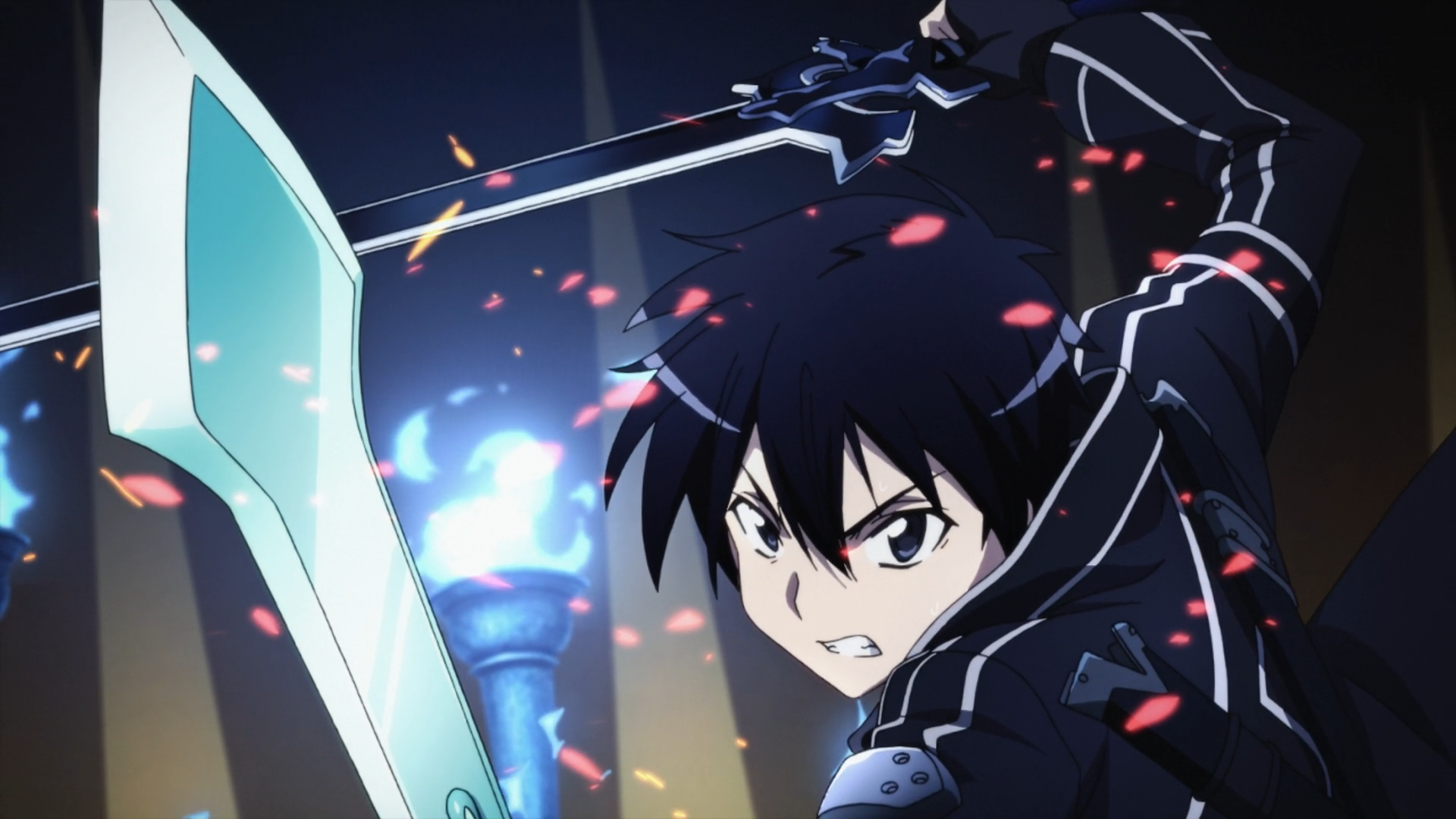 In Log Horizon, nobody ever dies. They respawn back at the Cathedral, which instantly removes any stakes from the world. There is no threat, because nobody can actually die. They respawn and carry on. The second half of the first season foists the possibility of losing memories every time they respawn, but nobody knows if that really happens or not. Until season two, where it not only does happen, but you have to go through some kind of weird vision trip on the Moon, a thing that was never mentioned once in season one.
The reason this cripples the story is because despite nobody being able to die, they try to act as if encounters have stakes. They don't. The first story arc sees Shiroe, Akatsuki, and their irrelevant panty obsessed idiot sidekick, Naotsugu, going to another town to rescue a young player from another guild. Serara, the girl being held there, isn't actually in any danger from the guild that's taken over the other town. They can't kill her, just send her to the Cathedral. Still, she acts as if she is terrified of death, and constantly warns Shiroe that going against the cartoonishly evil leader of the other guild will get him killed. She whimpers and cries as she hides behind Shiroe, who soothes her weak womanly heart with his brave manliness.
That is what happened.
Later, Minori and her idiot brother Tohya, are held captive by a guild and forced to do their bidding. Forced by what, I don't know. They can't actually be hurt. All they had to do was walk out. If the guild members stopped them by violence, they just go to the Cathedral, where they can walk away completely. Nothing is actually holding them there. All their gold has already been taken, so at worse, they will suffer an XP loss, but at their level it would have been very minor. Yet, they need Shiroe to concoct an absurdly elaborate plan for their rescue, which is suppose to be tense, but isn't. Will they escape the guild hall, or will they be killed?
Well, if they get killed, then they respawn, so technically they have escaped the guildhall, so I don't guess it actually matters, now does it?
Which is kind of the problem with Log Horizon. We're suppose to care about the fate of the characters, but they are never in any kind of danger. Even in raids, the worst thing they face is having to start over. That is not exactly compelling.
Instead, we're offered other stakes. Like, everyone in Akihabara is sad. So, they make a burger stand, and now everyone is happy. They might have to go to war with the NPC's, which when you can't die, isn't exactly a threat. Seriously, being immortal kind of swings every battle in your favor. When NPC's die, they stay dead. At that point, numbers don't matter.
Ah, but who will give them quests so they have something to do?
Uh, NPC's stopped giving quests the moment they became real people, which is why everyone had the sads and needed a burger stand to cheer them up. Except that later on, we see a group of nobles complaining that adventurers are no longer accepting jobs, by which they mean quests. So, wait… what?
Let me be clear. Trapped in a world where there is no point in doing anything would suck, and be depressing as hell. I agree with that. The food tastes like crap in this world, so good tasting food motivates people to at least grind for cash.
There's a bunch of problems with this.
First, let's say there are 1,000 people in Akihabara. There's more, but let's go with 1,000. Out of that 1,000 people, nobody figured out that regular skills work the same as attack and defense skills? Really? How many stupid people are there in this town, cause that's just basic logic.
Second problem, how do we know NPC's aren't giving quests? The players are now in a physical world, and the NPC's behave like real people, so it is logical to assume that the manner in which quests and rewards are given has changed. Did anybody look into that, or did they just go find an NPC and poke them in the face trying to get a dialogue box? We don't know, because we never see that. We're just told NPC's don't give quests. Which is directly contradicted later by the nobles, who are pissed that players aren't accepting quests. It's a break down in communication that a good 1,000 people couldn't figure out, even though it just requires basic logic to think it through.
Last problem. 1,000 people, and nobody can think of a single fucking thing to do? Start a new football team, using game skills. Get people excited and joining a team, forming a league, and get people to pay to watch, with the pot going to the winning team. Organize a recon group to explore this new world they are trapped in and report findings on how things have changed back, charging the guilds for this intel. A ton of people would ump at that. Shit, just go grab an empty building, offer a few people jobs as strippers, and charge an entrance fee. You'd be surprised how fast people will make money to see nudity.
Those are all ideas just off the top of my head, and not even all of them, so this post doesn't go on forever, that over a 1,000 people in Log Horizon couldn't think of, because they are all too stupid, and need Shiroe to figure out every blessed fucking thing for them. Entertainment, information, and sex. Those are three things that always sell in any world, and anyone can offer, obtain, or trade.
Yes, guys can be hookers and strippers, too. So, yes, sex is something anyone can offer, obtain, or trade. Anyone.
Basically, Log Horizon has no actual stakes. They don't know how they got stuck in the world of the game, and they don't really seem terribly interested in finding out. It might have been a spell from inside the game world, or it could have been the moon aliens.
Yes, there are moon aliens. Cause why the fuck not. One of them is walking around in Shiroe's backup character, Roe 2, who is also a sexy vampire chick with nice boobs, cause why the fuck not?
Say what you want, but the plot of SAO's Aincrad arc makes a hell of a lot more sense than Log Horizon. At least there were stakes. Something that motivated the characters to act. Besides people being bummed out, I mean. Death or being sad. Gee, lemme think which is worse. Hmmm.. I dunno. Those are pretty close.
No, dying is worse than being depressed. Cause then your dead.
Now, to be fair, a lot of folks have said that the real plot of Log Horizon is the trapped people figuring out how to live in their new world. Which would be an interesting plot, if they didn't figure it out immediately and then go on to deal with treaty negotiations, aliens, and the batshit crazy antagonist who slinks around and purrs at Shiroe a lot. A story about actually dealing with living in an MMO world would be interesting, but this isn't it.
Because the damn thing can't decide if it's a game or not. Which brings me to…
The Mechanics
SAO is a game, but the game isn't what SAO is about. The mechanics aren't relevant, because that isn't the story. The story is Kirito and Asuna. The game is just the frame work. So, no it doesn't have to be a fully realized and functional game setting. It just needs to be passable.
Actually, the game mechanics of SAO make perfect sense, but that would take a whole other post to get into, so let's move on.
Log Horizon is also set in a game, but tries to make it as close to a WoW knockoff as possible. Which it fails at. Because once it is no longer a game, but a real physical place the players are trapped, why do they still have HUD's? The NPC's are now real people. The players have to learn how to cook, must sleep, and only have an inventory when the plot needs them to, but everything has menu buttons, status bars, and screens.
Basically, Log Horizon can't decide if it's players trapped in a game, or players taken to a real world identical to the game. It tries to have it both ways, and fails at either, because again, there are no stakes to anything they do.
SAO never pretended to be about the game, or even a game we would recognize. The complaint against it is based on it not being one we recognize. So, yeah, basically what people are bitching about is that it isn't WoW the Anime.
WoW isn't the only MMO out there. My favorite is DDO, which looks nothing like WoW. It doesn't even play remotely like WoW. There are different MMO's that operate differently. Not all of them have to look like the one you might be familiar with, whether because you played it, or because you saw that episode of South Park.
Not to mention, how would a VRMMO actually play? What would it be like? Nobody knows, because that technology doesn't exist. Log Horizon tries to build on existing technology, by being a WoW knockoff, but then ignores the game aspects for long stretches to focus on Shiroe's harem, the tragic circumstances of whiny kids who could just walk out of their tragic circumstances any time they want, and political negotiations that have no bearing on anything later on.
SAO may not be realistic, but Log Horizon makes no fucking sense at all, because it keeps changing depending on what ramshackle set of circumstances they want to throw at the characters. It is actively everything that SAO is hated for.
The Secondary Cast
If I'm going to stick to talking about Aincrad alone, this becomes a problem with SAO. There's not much of a secondary cast. Asuna is more a second protagonist in the Aincrad arc, which limits us to only a handful of characters. There's Klein, the girl crazy best friend character, and Egil, the more serious and adult character. There's Liz and Silica, who only appear in a single episode each. There's Heathciff, who as we all know is actually Akihiko, the creator of SAO, and Kuradeel, the drooling batshit crazy character of Aincrad. Every SAO arc has to have a drooling batshit character, after all.
Yes, I said that. In Fairy Dance, it was Sugo, who literally drank the tears of Asuna as he laughed manically. In Gun Gale, it was Shinkawa, who collapsed into gibbering lunacy as he tried to kill Sinon. SAO has never been good at complex villains outside of Akihiko himself. Mother's Roasario featured no villain or antagonist at all, which was probably for the best.
I'm getting ahead of myself here. We'll come back to antagonists in a minute.
Anyway, there's not a lot of characters to really explore with the Aincrad arc outside Kirito and Asuna, as they are the only ones who get any real screen time. Which is fine, since the story is about them.
Log Horizon, on the other hand, has a huge and diverse cast of characters, including a number of antagonists that aren't actually villains, just people with opposing goals. The immediate secondary cast includes Naotsugu, the panty obsessed idiot, Nyanta, the smooth talking older player, Minori, Akatasuki, Tohya, and a bunch of other annoying children, and way too many other characters to effectively go into.
Really, the cast is huge.
This works for and against Log Horizon. In the pro column, it lets us take focus of Shiroe when we need to do something other than admire him. Crusty, the leader of another guild, is a decently crafted and realized character who seems at first to be a standard jackass, but turns out to be very thoughtful and reasonable. In fact, outside panty obsessed idiot Naotsugu, and cat character who doesn't know how to hold a sword Nyanta, most of the male characters are pretty well crafted. At least, the ones over the age of 16 are. The kids are all obnoxious brats.
The women, however, are very poorly done. Mirelle, the leader of the Crescent Moon Alliance guild, spends most of her time pouting, throwing tantrums, and swooning over Naotsugu, for some reason. In the English dub, they gave her a valley girl accent, which actually fit a little too well. Her treasurer, Henrietta, is one of Shiroes's harem bunnies, and has a weird obsession with cuddling Akatsuki, as well as dressing her up like a goth loli. It's one of the shows running gags, and it runs out of steam very quickly, as those two things are about all there is to Henrietta.
I've already mentioned Minori, so I'll move on to the other whiny brat, Serara, who's only role in the show is to cry and fantasize about marrying Nyanta. So you know, Nyanata is apparently the oldest person there, over thirty at least, though he frequently refers to himself as an old man. Serara is about twelve, if that old. So, yeah, that whole thing is just weird. While pretty much every romantic subplot in Log Horizon is executed with the awkward fumbling of blind and horny sixteen year old, the Nyanta/Serara one is the most grating.
Then, there's Lenessia. What a wasted opportunity this character was. A Princess among the former NPC Free Cities of Eastel, she is frequently described as a cowardly and lazy person. Except we never see her being either. In fact, we only ever see her being pretty much the opposite. When she isn't moon eyeing over Crusty, or hating him. It goes back and forth.
The cast expands later to include a character previously only mentioned, Kanami. I can't say much about her, but, well, I can bet you can guess how to enter her code.
She and Shiroe have some kind of history, and she's basically a super powerful fighter of the Monk class, who jiggles around a lot, and is overly enthusiastic. She really doesn't have much of a personality beyond that, and possibly being Shiroe's ex, and maybe the mother of his child. That part wasn't real clear. Nothing about her character was real clear, though.
Then there's this guy.
Yeah. That's Leonardo. He's a ninja frog. I don't even know what else to say at this point. That's a legit character in this show.
Then there's Roe 2. That's Shiroe's sexy, vampire alt that's being controlled by an alien from the moon. When in doubt, throw in a female version of the main character, I guess. Beats giving all those kids personalities beyond whiny.
No, I really didn't like the junior members. Following them on their second season quest was teeth grindingly painful. I kinda kept hoping they'd die, but nobody can die, so all there was to do, was just endure until the show focused back on a character I found less annoying.
Sadly, Akatsuki's arc was already over at that point, so we never did get back to a less annoying character. Just more of these annoying kids being treated like they mattered.
While Log Horizon has a much larger cast, not all of them get as fleshed out as they need, with the female characters getting the most shortchanged. Frequently given character traits that are just synonymous with Girl, like crying, or being in love, or practicing cooking, they ultimately serve no great purpose in the story, which is always a shame.
Of course, SAO wasn't a lot better. Outside of Asuna, none of the secondary characters in the Aincrad arc really did anything other than give Kirito some one to talk to. So, yeah, on this front, both shows are kind of a wash.
At least Liz and Silica got more characterization later. Not much, but some.
The Antagonists
Yeah, I already kinda cheated and talked about the SAO antagonists. Or lack there of. This is really the biggest weakness in SAO, to be honest. Everyone that Kirito faces off with, save Akihiko, is exactly the same, and that same is binky bonker looney toon. There's no depth to the villains, which makes their defeat kind of empty.
The reason for that is because as nutso as they are, sooner or later, they would have gotten caught anyway. They would have gotten to do more horrible shit, but eventually, they would have gotten caught even if Kirito hadn't intervened. What gives them stakes is how they affect Kirito.
Kuradeel would have killed him. Sugo would have done much worse to Asuna. Shinkawa would have killed Sinon, after doing worse to her. It's repetitious, and pretty one note.
I could make an argument about the bad guys in SAO are analogies for real life difficulties we all face, but this is already going on way longer than I intended, so maybe I'll end up tackling that another day.
Seriously, SAO. I wish I could quit you.
On the Log Horizon side, the antagonists aren't really antagonists for the most part. There's Demiquas, who's laughably over the top as the most stereotypical villain I've seen in anime for a while. All screaming about how great he is and how he'll crush everyone, in a world where that is utterly pointless. After him, though, there's not really an actual antagonist for a while.
Lord Malves shows up, but is comically inept as a villain, and sent packing with barely a fuss. That's when Nureha shows up, and oh, look, she's bug pants crazy.
I'm starting to think loopy doo is the only way we get bad guys in MMO themed fantasy anime.
Nureha continues on as the central antagonist of season two, but she's being bullied by an even bigger bad, Intics. I have no idea who Intics is, but she's a total stone cold bitch, because she's a bad guy and a girl, so it's either that, or she's crazy and in love with Shiroe. Because actually having some kind of characterization that isn't one dimensional would be way too much to ask of a female character.
We also get recurring antagonists in the Genius monsters, which are apparently moon aliens sent to gather mana, thought that whole story arc makes about as much sense of Nureha's sultry rantings over Shiroe. The only reason I even bring them up is because part way through season two, we are referenced back to earlier events, during which battles with Genius monsters took place. Except they didn't, and nobody ever mentioned them.
This is relevant, because that was a major bashing point of the Gun Gale arc. Don't build on something we didn't see. Which Log Horizon did, in the exact same fashion, with flashbacks and everything. That's literally the same thing.
Don't bitch about something one show does if you are going to praise another show that does the exact same fucking thing.
Overall, neither show really ever offers up any antagonist that's worth a crap. Both go with either the not so bad, really, as Demiques later gets a redemption arc in much the same vein as Akihiko's from Fairy Dance, or straight up giggling loon. In this regard, they are basically the same show.
Well, Log Horizon does have moon aliens, so I guess that's different. Stupid, but different.
Execution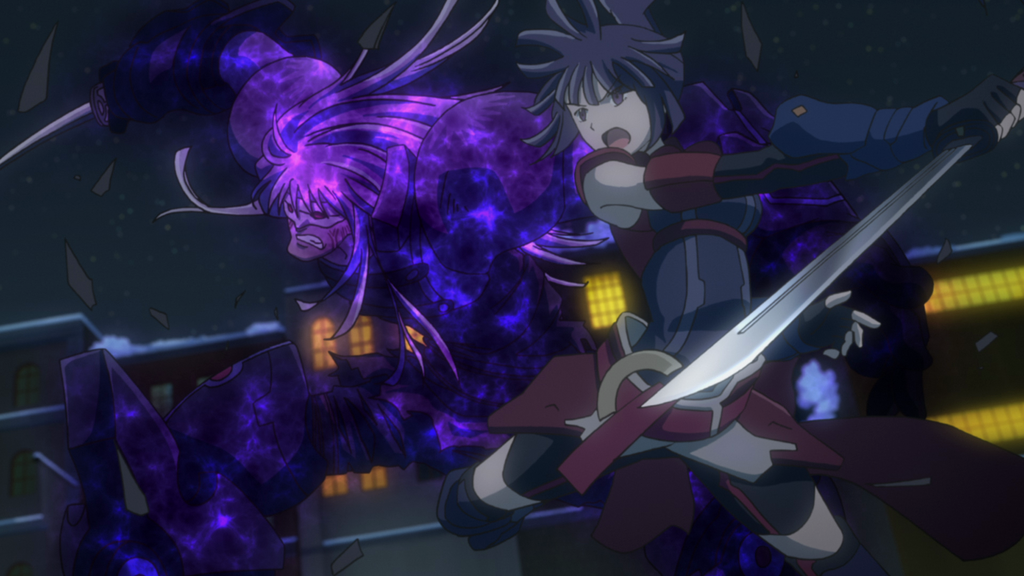 Now, for the most part, I've been pointing out how Log Horizon does everything SAO is accused of, only worse. Here, I want to show how the two series are actually radically different. Because, it's the execution and intent that defines a story.
SAO is a love story. That's all it is. It isn't about the mechanics of the game world, or even Akihiko and his death game. It's not about anything except Kirito and Asuna, who found each other, fell in love, and in that gained the strength they were lacking alone. They have one of the most functional, believable relationships you'll find anywhere in anime, built on trust and respect for one another.
At it's core, that's all SAO is. A love story. That's why nobody who enjoys it cares about the rest. Because they love that love story. As a love story, SAO is is great, too.
Log Horizon is about something totally different. It's about accepting the things you can't change, and doing the best you can to build a life, no matter where you find yourself, or who you are surrounded by. That's the whole point of Log Horizon, and in that, it is a great show.
Yes, SAO has a lot of flaws. I've never denied that. It also has a lot of strengths. As does Log Horizon. Where SAO focuses on the action, Log Horizon focuses on things like economics, social disparity, and the importance of diplomacy and communication to avoid conflict.
Those aren't the things I disliked about the show, either. Spice & Wolf is one of my favorite animes, and it's all about economics and trade negotiations. That's pretty much all Spice & Wolf is about. I loved every minute of it, too.
So, why didn't I enjoy Log Horizon?
To put it simply, it was the characters. With SAO, I felt a connection to Kirito. When I was his age, I was searching to escape myself in D&D, and ended up finding who I wanted to be, both in the roles I chose, and the ones I was given by a DM, as well as in my interactions with the other players. SAO let me forge a connection with Kirito on that basis, and in him, I saw myself at that age, and could relate to his feelings and experiences.
I never felt that with anyone in Log Horizon. Most of the characters annoyed me, and the few who didn't, bored me. Akatsuki has a good character arc early in the second season, but they ruin it by having her growth be all about being good enough to be with Shiroe, instead of being good enough to be okay with herself. She gets that second one, too, but her motivation is still about Shiroe primarily, which robs her of her own motivation to just be good with her.
The rest of the cast was just never anyone I connected with. I felt nothing for them. I was never concerned for their well being, or invested in their success. There was never anything that made me feel like any of it mattered. Which is ultimately a failure of execution, as with a cast that large, there should have been someone I could invested in.
Instead, we got Tetria, who I wanted to beat with a mallet. Until she stopped moving. Forever.
Which is again, kind of the problem. The characters in Log Horizon bored me, annoyed me, or made me hate them. That's not what any author, or creative team, should be shooting for.
Yes, yes, I already know. Subjective. I'll get to it soon enough. Keep your pants on. One other thing first.
The rule of writing, the only rule that really matters, is Show Don't Tell. This is where Log Horizon really turned me off. It tells constantly, but shows never.
This is why we get the secondary characters having long conversations about how brilliant Shiroe is. It's telling. It doesn't show, however, as in order for me to believe Shiroe is really that brilliant, I'd also have to accept that everyone else in Log Horizon is a pants crapping idiot.
Let me give an example. Shiroe purchasing the Guild Building. In the context of the show, this was a power move on his part to force the other Guilds to sit down and talk, rather than just stomping about doing whatever they wanted. If we had actually seen that happening, it'd be easier, but most of the guilds and their leaders are people we meet for the first time when Shiroe reveals what he's done.
Very quickly, we discover that Crusty is not an idiot. Except, in order for Shiroe to have pulled this off, he'd have to be. Crusty runs what is arguably the largest guild in the city, and is a fairly observant dude. He must have noticed that the guild building was something they could now buy, so that he didn't do something about that with the massive resources at his disposal makes him a blithering idiot on the simple grounds that it implies he never considered someone else would buy the building and use that to their advantage.
Which is just what Shiroe did. So, in order to accept that Shiroe's plan worked, we must assume everyone else is utterly incompetent. Had Crusty forged an alliance with Issac, another master of a large guild, they could have beaten Shiroe to the punch while he was off rescuing Serara, and then dictated whatever terms they wanted.
Instead, nobody thought of it, and everyone was shocked that Shiroe had. Because they are all stupid.
Actually, it was written that way so everyone could be amazed at how smart Shiroe was. That's the only reason it happened that way. So we could be told Shiroe was brilliant, rather than seeing it.
Here's the easy fix. Shiroe barely gets ownership of the building before Crusty and Issac. They arrive just a moment to late. That's it. That's all that had to happen. Now everyone looks less stupid, and Shiroe still gets to be smart, but we see how his plan to gain ownership was something that could be executed faster. No need for the telling at all.
Instead, nobody ever even thought to do what he did, including the merchant guilds, who actually ponied up the money. That they didn't think to buy the building that housed the only bank in the city is staggeringly hard to buy, when they obviously had the money. The threat of someone gaining control of the bank would have been reason enough to motivate intelligent people to band together.
But then we couldn't be told how smart Shiroe was.
SAO has the opposite problem. It shows, but rarely tells. Kirito gains a lot of levels from doing quests and grinding, but we are never told how he was so far ahead of other players who had the same quests and grinding options he did. We're just shown him being more advanced.
This continues all through the series. He was able to duel wield in his fight with the Salamander general during Fairy Dance, even though duel wielding isn't a skill that's available in ALO. He was faster and more advanced than everyone in GGO, but may not have even been playing his Aincrad character. So on and so on, and we all know the points.
Now, if Show Don't Tell is the rule, what's wrong there? Frankly, it shows things that can't be explained. Show, yeah, but you still gotta do a bit of telling so we understand what it we're seeing.
On the other hand, don't spend all your time telling. You gotta show something besides a close up of Shiroe pushing his glasses up as dramatic music plays and he explains exactly how he's going to win. Let us see him laying the ground work for his smart moves, instead of just revealing them after the fact, and having him explain his plan in detail. Don't explain everything after the fact. If we know he's already won, why are we invested? There's no tension, no expectation, or anything.
Both shows could do with a lot of balancing in this area, to be honest, but for my money, SAO edges out in execution for one simple reason. It doesn't bore us to death with long winded explanations that are repeated again a bit later by another character. While SAO could do with more telling, it does show enough we can fill in the gaps ourselves if we choose. Log Horizon assumes we're too stupid to understand, so it just explains everything, every step of the way, but never shows us anything.
That is a difference that, for me, is pretty major.
Subjective, again, but again, I'll get to that later.
Animation
This is SAO.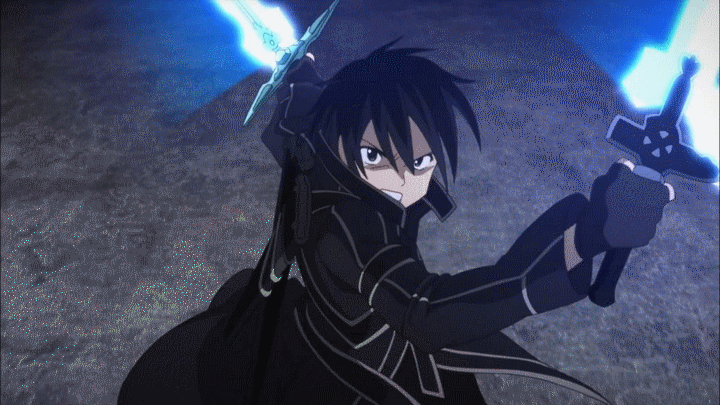 This is Log Horizon.
That's all I can really say about it. In animation terms, SAO kicks Log Horizon's ass.
Well, honestly, what kills Log Horizon is all the close ups on people pushing their glasses up their nose. It only takes a bit to realize it's often recycled animation. It's even more noticeable in season two, when they had a better budget and didn't need to keep doing it.
Which, yeah, the budget constraints aren't the stories fault. It's just the frequency of that glasses push started getting on my nerves. Petty? Yes. But then again, so are most of the complaints against SAO, so fuck it.
Music
SAO has Yuki Kajiura. End of argument.
Log Horizon's music was done by Yasuharu Takanashi, who also did the music for Fairy Tail, and generally earns fawning praise from me. Yet, there was something about the music in Log Horizon that sounded familiar. As if I'd heard it in another anime.
Pretty sure you don't want your audience trying to think of another show while watching yours. I'm not sure what happened there, but it was weird, as Takanashi is one of the few composers I'd consider to be able to hold his own with Kajiura. Something was off, but who knows what or why it happened.
Still, for all that Takanashi is a gifted musician, Kajiura really did some amazing work on SAO. So, yeah. I'd buy the soundtrack to SAO, but wouldn't to Log Horizon.
In Conclusion
There's more I could get into, but this is already an absurdly huge post, even for me, and I figure we'd all like to get back to our lives at some point. So, I'm just gonna offer up that subjective argument now.
Let me start by saying that SAO is not a great anime. Even among the people who love it, you'd be hard pressed to find anyone who will say it's great. Good, yeah, but not great. It has issues, and a lot of them, but it is entertaining, and since it is entertainment, that's all it has to be. As entertainment, it is also wildly successful, and there's no arguing that. Debates over whether or not it should be are irrelevant. It is, and that's that.
Log Horizon is held up as being superior to SAO in every way, even though, as this lengthy post has gone to great pains to explain, it actually isn't. So, why do people praise it so much?
Because it isn't SAO. That's why. That's all there is to it. If I am to be viciously critical, there is no real reason to hold Log Horizon with any more regard that SAO has, because it is every inch as bad about everything SAO is panned for.
This doesn't make it bad. It isn't great, either. Like SAO, it is entertainment, so if you are entertained by it, then it has succeeded.
I was not entertained by it. There's a lot of reasons for that. The characters, the setting, the plots, and my issues with those are just as fair as anyone's issues with SAO. It is even completely fair to say that the way people talked about it gave me unrealistic expectations of what it would be like, which could never be met. That's probably even true.
I wanted to like it. Hell, when I sat down to watch the first episode, I wanted to love it. I want that with every anime I watch. I always want to find the things about any anime that let me love it, even when the show itself is trite, predictable, or just plain dull. With Log Horizon, I never could find anything to latch onto that let me love it. That happens sometimes.
It doesn't make Log Horizon suck as a show. It just made it a show I didn't enjoy. That's all. It doesn't mean nobody could ever enjoy it unless they were stupid, or had worthless taste in anime. If somebody enjoyed it, that's great! I'm happy to know that. I didn't, and there's no changing that, but it doesn't affect the worth of the show at all.
It just means I didn't like it. Nothing more. Nothing less.
There's also this one other thing to consider. Despite their similarities, the two shows really aren't even in the same genre. Outside the trapped in an MMO concept, which has only be used maybe four times, and as such, isn't a genre, they are radically different in intent. SAO falls more into the death game genre, while Log Horizon falls more into the transported to another world genre.
Why are they even really being compared? I don't know the answer to that, and this post isn't about comparing them so much as it is addressing the way Log Horizon does everything SAO is hated for. If I were to get into the particulars of the plot, they aren't enough alike for a comparison.
All I can assume is that the MMO ties are why people seem to think they are comparable. They really aren't. One focuses on surviving, while the other focuses on economics. Those are pretty radically different, no matter how you cut it.
So, which show is objectively better?
I dunno. Which one did you enjoy the most? That's the one that's better. Cause there is no objectivity in being entertained. If you are, then you are. If you aren't, then you aren't. Anyone who says one or the other is objectively better is full of shit because they cannot objectively measure another persons enjoyment of entertainment.
Which is what made me want to write this all to begin with. Log Horizon is never reviewed as Log Horizon. It is always reviewed as the anti-SAO. That isn't even remotely fair to Log Horizon. The show is never allowed to be judged on its own merit, but rather in how it does things different from SAO. AS I've gone over, it actually does those same things, just in a very different way. They are still there, often even more blatantly, but that's never brought up in any of the reviews I looked at. Just how it's better than SAO.
Removing SAO from the equation, would I have enjoyed Log Horizon more? Probably not. The only reason I even watched all fifty episodes was so I could talk about it for this post. Otherwise, I probably would have dropped it after the third or fourth episode. It just held no appeal to me as a series, with or without SAO existing, and that never changed.
Again, this doesn't mean Log Horizon is bad, or that it sucks. It just means I didn't enjoy it. That's all that means.
I did enjoy SAO more, for a lot of reasons, most of which start with what I talked about in regards to feeling a connection to Kirito. As entertainment, SAO was more entertaining, and that's the real bottom line.
Look, we all love it when an anime turns out to be full of deep thoughts and big ideas. That's never bad. It doesn't mean every show has to be that way, though. Sometimes, it really is okay to just be entertained by something. There's room for both in the world. Hell, there's room in our own viewing schedules for both.
Now, I know sooner or alter, somebody is gonna stumble on this and decide to explain to me why I really didn't enjoy Log Horizon. That's a fact of the internet. So, let me go ahead and help them out.
"You didn't get how deep and well written it was, cause you're stupid!"
No, I did get how deep it was suppose to be. It just never came together in a way I found convincing. As a writer, I saw all the ways it took shortcuts to get to the conclusions it wanted. As a published author, I get to say that, and you get to shut the hell up.
"You're just bashing it because it wasn't full of mindless action!"
Go back one month and read my review of Haibane Renmei, where I praised the ever loving shit out of it. That show has no action at all. It's just characters talking. It's one of my favorite animes ever. Now, shut up and go wipe the foam off your mouth.
"You're only bashing Log Horizon because it isn't your perfect precious SAO!"
SAO isn't perfect. It's just more entertaining. That's all. If I were to rank my top twenty favorite animes, SAO wouldn't be in them. It's good, but it isn't great, nor is it perfect, or even my precious. I'm not Gollum, you nitwit.
"It's not like you could do something better!"
Oh, you sweet child.
My first role playing game was the D&D Basic set when I was ten. I've played every version of the game since then, actively, for 34 years now. My first console RPG was Quest For The Rings on the Odyssey 2 back in the early 80's. Since then, I've played a fuck ton of table top RPG's, console games, computer games, and yes, MMO's. Basically, I've got over thirty years experience with this genre of gaming.
I'm also, once gain, an actual published author. So, yes, if I decided to tackle the trapped in an MMO concept, I could do something better. Something that would have a fully functional game system, well crafted characters, and a plot that actually made sense. That's the benefit of being me, which admittedly, doesn't come with a lot of other benefits. Or any, really.
Why don't I, then? I dunno. Not interested, mostly. If I change my mind, you'll probably see it here on this blog at some point, or for sale on Amazon. Until then, just assume I've actually got better things to work on than proving you wrong.
That should pretty much cover most of the arguments. There's always variations, such as claiming Log Horizon is art and SAO is mass market, and I don't appreciate art, but you get the picture at how those are the basic things someone could say. Everything else is just a variation on them.
So, last thing I'm gonna say here about all this. Then you can go back to your tacos.
Yes, I can see you have tacos. I also noticed you aren't sharing them with me, but I'm a nice person, so I let that slide.
Not to be a broken record, but enjoyment of a piece of fiction, no matter the medium, is something only you get to decide. Critics can offer their opinions, but it's important for anyone who who reads or listens to them to know that they are just hearing an opinion. Same goes for me. I'm only offering my opinion. You can take it or leave it as you wish. What I enjoy and what you enjoy may be two completely different things, and that's fine.
The problem I had with the critics fawning praise of Log Horizon was that it never covered any of the things I brought up in this post, so it gave me an unrealistic expectation of what the show was going to be like. What would have been something I found curious but boring ended up being a massive disappointment. It's important, even when sharing our opinions, to be honest about the good, and the bad.
There is a lot I can see in Log Horizon that is good. A whole lot. Without characters to get me, personally, invested however, there was no reason for me to care about that good. That's going to be true of anyone, with any anime. If you can't feel invested in the characters, you aren't going to become invested in the story.
No creator of content of any kind can craft characters that everyone can become invested in, either. That's not possible. So, our opinions of all forms of fiction in every medium will always be subjective. Every critic of anime is offering their subjective view, not an actual critical analysis, and that's something we all need to bear in mind.
Best thing to do is go watch a show yourself, and form your own opinion. You may leave here and go watch Log Horizon and find it's one of the best shows you've ever seen. That doesn't make me wrong, or you right, however.
It just means we have different taste. Nothing else.
Let's try to remember that, yeah?